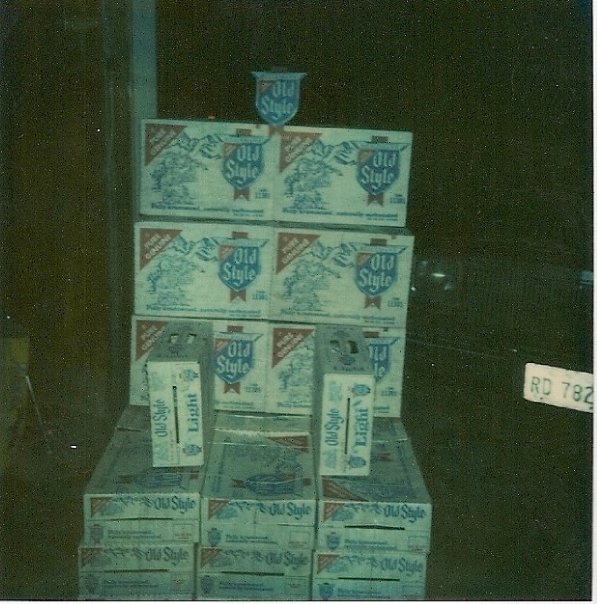 These are the collected memories of my spent and misspent youth. Names have been changed to both protect the innocent and to subvert any statutes of limitations that may still apply. I will also take liberties with the truth as in who did what, or maybe combine a couple of stories together that really didn't happen together. Such is the nature of a memoir. I am seeking to entertain, not write a documentary. Hope you enjoy.
 The Beer Throne
As our senior year approached we felt the need to do something significant, something with meaning. In today's world, that would refer to making a positive impact on the community through some sort of charitable works. In our world, semi-rural Illinois in 1982, it meant some show of authoritorial defiance combined with fun. Through the summer we gave it quite a bit of thought, hell we weren't doing much else with our time. We knew that it was tradition to TP the school before homecoming. That was nice, but as far as we were concerned, it had been done. We wanted something different, something inappropriate, and something memorable. Inspiration doesn't neccesaruly come when you call, but you needed to be ready when it hits.
 The three of us (Hymie, Cisco and myself) were trying to find a place to throw away a case of empty Old Style cans. Too big to hide in any home garbage and we weren't about to dump it out in the country. Our 70's grade school environmental indoctrinations had been quite effective.  We pulled up behind the Buy Rite Supermarket  intending to use their dumpster for the deed. We slowed down, but something did not feel right. Hymie was driving. He always insisted on driving. Control freak. We decided that we were just too exposed so we passed on the illegal dumping and headed back to my house. We sat in the shop room in the garage pondering our situation. The room had an electric space heater, a garbage-picked lazy-boy chair, a console TV converted into a cooler, a radio, a bunk to sleep on and a workbench. It was a great place to bullshit or sleep one off. Hymie held the case and he commented that it was kind of like a lego without the bumps. (The case in question was really heavy cardboard, nothing like the materials today.) While I didn't actually see the light strike, I did notice his face begin to glow with an inner light. We'd been friends for 6 years, I knew that something great or dangerous, or both was about to happen. He proceeded to dump out the cans, then duct tape the case shut. I protested at the cans all over the floor, but he held up a finger and said "I have an idea". He hid the case behind the Lazy-boy as I put  the cans in a garbage bag. He turned to Cisco "where is the garbage pick up tomorrow?" Cisco replied "East village, the newer section" without even thinking about it. Long ago we figured out that people put their garbage out the night before it is to be picked up. In our sprawling housing development, there was garbage out each night of the week somewhere. When we were younger we used to ride our bikes and check out the garbage looking for what we considered good stuff. Over the years it had yielded many, many treasures including the Lazy-Boy, two 8-track players, lots of 8-tracks, a couple of lamps, and one smoking black velvet painting. Garbage picking was one of our oldest traditions.
We took the bag full of cans and went back out to Hymie's ultra small car. In the East Village the houses were pretty close together, so the garbage can per block number was high. Hymie drove slowly along scanning each can. He stopped, hopped out, rushed up to a garbage and pulled out an Old Style case. He dumped the garbage from inside the case back in the can and slipped in his bag of cans. He came back to the car with the empty case. He looked at both of us and smiled his excited 6 year old smile. "We are going to build a throne out of Old Style cases!" To three high school seniors, the beauty of the idea was self-evident. It was not a question of should we, or could we. It was a question of where to stash it, and how big to make it.
All through the rest of August and September we picked garbage every night looking for cases. The house at the top of the hill on Fernwood Drive was good for one case every week. Brand loyal I guess. Overall, we could find maybe two per week. We also spread the word that we were looking for cases, so friends would bring us their empties. Our laundering of party evidence helped out more than one panicked high schooler. All in all, were getting about three cases per week. It wasn't without risk though. First, where do you hide them? The shop held the majority of them, under a tarp in the corner, but I had to keep tabs on my mom so she didn't wander in there and get snoopy. Second, homeonwers in our working class neighborhood did not take kindly to people messing around with the garbage. More than once we had a homeowner come barreling out of his front door, not quite dressed but holding his beer, yelling for us to get the hell away from his garbage. One night in late September the guy on Fernwood really helped us when he put out two cases. As we slowly drove by I leaned out the window and grabbed the cases. Only I didn't realize that they were full of garbage. At the same time, Hymie hit the gas because the porch light on the house flicked on. So, I am hanging out the window with 30 lbs of garbage in each hand and I cannot get back into his ultra small car. He turns one corner then another, all the while yelling at me "Get your ass back in the seat, I can't see out that side!" As we rolled by a court (like a culdesac but not as deep) the bottom of the cases gave way leaving a trail of garbage along the road. The headlights from a car in the court flicked on and it started after us. We were sure that it was police. Hymie pulled over. The car pulled up next to us. Smoke billowed from the window. (smoke with that particular acid-sweet smell that will forever define the 70's . Wink, Wink). A head poked out. "What are you dudes doin? What's with the garbage? It ain't cool!" I recognized  him and the driver as two guys who graduated last year. "The stuff fell out, I didn't mean to do it. We just wanted to cases."
"Is there beer in them still?"
"No, were are building a throne out of beer cases for homecoming"
They looked at each other. "Cool. You are gonna pick up the garbage."
As we picked up the garbage I realized that these two were sitting across from the house of the passenger's ex-girlfriend. Sitting, smoking, and drinking. We didn't have a word for it then, but today you would call him a stalker. I was at their wedding several years later strangely enough.
The gathering went on through October. Somehow, Hymie managed to convince his parents to let us use the garage for the final assembly. I just think they were happy to see him doing something remotely constructive. Half a mile of bailing wire and a few thousand feet of duct tape later we had a throne. On the TP night, we set it up at the main entrance of the school for all to see. The next morning the school was a buzz about the TP job, the excellent string of bras/panties that was strung up the flagpole, and the Old Style Throne. Mission Accomplished.